Software Architekt (m/w/d) in Mannheim
Mannheim

Please apply here on "ITbawü.de" with the "Apply Now" link/button at the top right.

Sie haben ein neues berufliches Ziel? Schlagen Sie mit SII Technologies Ihren Weg ein! Verwirklichen Sie als Software Architekt (m/w/d) gemeinsam mit uns Technik am Standort Mannheim.
Aufgaben
Architekturentwurf und Erweiterung bestehender Systeme
Verifizierung der Umsetzung
Projektbetreuung vom Konzept zur Realisierung
Review und Erweiterung von Spezifikationen
Durchführen von Code-Reviews
Mitarbeiten bei Softwareprojekten in der Medizintechnik
Ihr Profil
Abgeschlossenes Studium der Informatik oder vergleichbare Ausbildung mit entsprechender Berufserfahrung
Fundierte Kenntnisse in den Programmiersprachen C und C++, Erfahrungen in Java sind hilfreich
Gute Kenntnisse von Skriptsprachen wie Python, Perl und Bash
Gute Kenntnisse in Eclipse
Sehr gute Deutsch- und Englisch-Kenntnisse
Ihre Vorteile
Stärkenorientierte Mitarbeiterförderung sowie firmeninternes Nachwuchskräfte-Entwicklungsprogramm
Modern ausgestattete und klimatisierte Arbeitsplätze mit innovativer Technik
30 Tage Jahresurlaub, flexible Arbeitszeiten sowie leistungsgerechte Vergütung
Vielseitige Angebote und Leistungen (z. B. VWL, bAV, Kinderbetreuungszuschuss, JobRad, Mitarbeiterrabatte, Events)
Motiviertes Team in einer offenen und wertschätzenden Unternehmenskultur mit kurzen Entscheidungswegen
SII Technologies GmbH
Daniel Sütterle
Besselstraße 2-4
68219 Mannheim
Tel:0621 68599644
Brief profile of SII Technologies GmbH
Die SII Technologies ist Mitglied der SII Group, einem weltweit renommierten Technologiedienstleister mit 8000 Mitarbeitern in 19 Ländern. Mit fünf starken Säulen – Digital Services, Engineering, Systems, Precision Parts und HR Services – liefert die SII Technologies maßgeschneiderte Lösungen aus einer Hand und engagiert sich für Kunden aus den Bereichen Automotive, Food & Beverage, Energie- & Umwelttechnik, Industrieautomation, Luftfahrt- & Verteidigungsindustrie, Marine, Maschinenbau sowie Medizintechnik. In Baden-Württemberg hat SII Technologies rund 60 Mitarbeiter. Neben bundesweit größten Sitz in Mannheim sind wir ebenfalls in Oberkochen und neuerdings in Weissach bei Stuttgart vertreten.
Unsere Kunden zählen weltweit zu den Besten ihrer Branche. Gleichzeitig suchen wir auch die besten Mitarbeiter, die sich mit Leidenschaft und Engagement an unseren Standorten. Unsere Unternehmenswerte bestimmen unsere tägliche Arbeit sowie unseren Umgang mit Kollegen, Kunden und Partnern: Flexibilität, Integrität, Dynamik, Effizienz und Sympathie – zusammengefasst FIDES. Dieser lateinische Begriff steht für Zutrauen beziehungsweise Vertrauen und bildet das Fundament unserer Werte.
Gemeinsam gestalten wir die Welt von morgen!
Was macht es besonders, für uns zu arbeiten?
Dynamik und Wachstum prägen uns seit Firmenbestehen. Unseren Mitarbeitern bieten wir spannende Projekte in einem zukunftsorientierten Umfeld. Unsere Diversifikation bringt Abwechslung – wir entwickeln uns stetig weiter und leben technologischen Anspruch. Werden Sie Teil unseres familienfreundlichen Unternehmens mit angenehmer Arbeitsatmosphäre und individuellen Chancen zur persönlichen und beruflichen Weiterentwicklung.
Damit können Sie rechnen:
• Leistungsgerechte Vergütung • 40-Stunden-Woche • Flexible Arbeitszeiten mit Gleitzeitrahmen • Urlaubs- und Weihnachtsgeld • 30 Tage Urlaub zzgl. Sonderurlaub • Home-Office und Teilzeitarbeitsplätze bei passendem Aufgabengebiet • Betriebliche Altersvorsorge • Vermögenswirksame Leistungen • Kinderbetreuungszuschuss • Individuelle Weiterbildungsangebote • Umfangreiches Angebot zur Nachwuchsförderung • Angenehmes und kollegiales Betriebsklima sowie gemeinschaftliche Aktivitäten
Getreu unserem Motto "Mit den Besten Technik verwirklichen" freuen wir uns, wenn Sie Ihr Know-how, Ihre Ideen und Ihre Technikbegeisterung in unser Unternehmen mit einbringen! Bewerben Sie sich gerne initiativ oder auf eine konkrete Stellenausschreibung.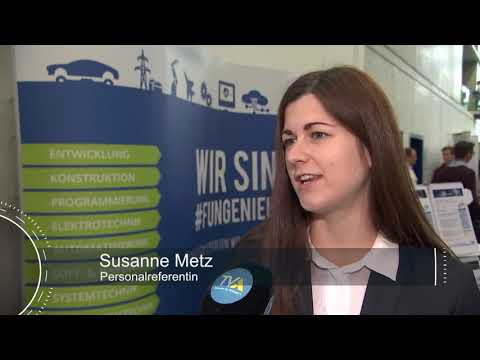 Publication date: 10-09-2019