2 Hybris Jobs or Internships in Karlsruhe
Here you find 2 Jobs and trainings to Hybris in Karlsruhe. Add matching Hybris Jobs and trainings in Karlsruhe to your saved list. Use your chance to apply for all those Jobs and trainings simultaneously. The most relevant ads are shown first.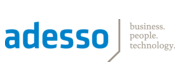 adesso SE
27-06-2022
Professional
Stuttgart, Karlsruhe, and Reutlingen
... dich von uns überzeugen. DEINE ROLLE - DAS WARTET AUF DICH Die Konzeption sowieUmsetzung von E-Commerce-Auftritten in komplexen Kundenprojekten auf Basis von SAP CommerceCloud (ehemals Hybris)ist dein Zuhause?Dann bist du bei unsgenau richtig.Du [...] folgendeAufgaben: Du entwickelst in agilen Teams Software Lösungen für unsere Kunden innerhalb SAP Commerce Cloud / Hybris Du integrierst andere Produkte der SAP C/4 Hana Suite, insbesondere mit Hilfe der SCPI Du kennst Dich mit Microservice
(Hybris), Hybris,
Commerce
,
Cloud
,
Developer
,
(all
,
genders)
,
Software-Entwicklung
,
IMS
pludoni GmbH Personalservice mittlr
Yesterday
Professional
Großraum Stuttgart (Hybrid)
50.000 € - 100.000 € yearly
... ähnliche Mit folgenden Kompetenzen (es sind nicht alle notwendig) Softwareentwicklung, Anwendungsentwicklung Java, J2EE, Java EE, Hybris oder AngularJS technische Projektleitung, Softwarearchitektur Datenbanken, z.B. SQL, MySQL
Hybris,
Softwareentwickler
,
Software
,
Informatiker
,
Datenbank
,
Webentwickler
,
SQL
,
Webentwicklung
,
Anwendungsentwickler
,
Programmierer
Your search yields not the right results?
Make sure that there are no typing errors or apply here unsolicited